The Wildman School of Bushcraft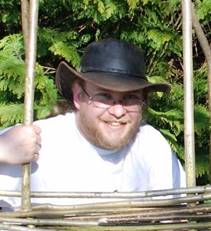 Tim Keenan (The Wildman)

I have been learning Bushcraft for many years, in an interest that started as a youth building camps, messing about on rivers and through The Scout Association. At the time I had no idea it was Bushcraft until I studied mechanics at college, when I began to realise that many of the principles of engineering I was being taught I had already learnt during those years. This understanding inspired me to hone my Bushcraft skills and urged me to pass this knowledge on to others. I have always been a fan of nature and photography, and this had led me to a passionate appreciation of the natural world.

I have been involved in youth work since I left college, teaching drama skills for various youth projects including a professional London theatre company, co-running a local youth club and on a project called Aikidrama, a project designed and run for the Family Learning Centre which focused on improving the relationships between parents and children through Drama and Martial Arts. The effect I experienced working on this project proved to me the benefit and gave me the opportunity to present this effect through teaching Bushcraft professionally and so The Wildman School of Bushcraft was born.